Black Hills' Services
---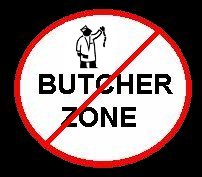 Click The "No Butcher Zone" Graphic To Read Our Goal!
2500 & 10k Mile Full Bike Service
---
Black Hills Custom Parts knows how important bike maintenance is. Servicing your Harley-Davidson at Black Hills every 2500 miles will keep your bike running it's best! The service mechanic's here will do a 20 point service on your Harley-Davidson every 2500 miles, which includes:



Drain engine oil & filter and replace with RevTech 20w50 Engine Oil & RevTech Oil Filter
Clean or replace tappet screen (Big Twin only)
Drain transmission lube and replace with RevTech Transmission Lube (Big Twin only)
Drain primary lube and replace with RevTech Primary Lube (Big Twin only)
Drain gear and chaincase lube and replace with RevTech Gear & Chaincase Lube (Sportster Only)
Adjust primary chain
Adjust clutch
Replace spark plugs
Clean or replace air filter
Check tire condition and air pressure
Check rear master cylinder fluid level
Check front master cylinder fluid level
Check condition of front and rear brakes
Check charging system & battery
Check all lights and horn
Adjust & lube (throttle, idle, & clutch) cables
Adjust and check condition of drive chain or belt
Check suspension
Test ride
Check for oil leaks

Additional maintenance every 10k miles


Drain fork oil and replace with PJ1 Fork Oil
Back To Top
Powdercoating Service
---
Looking to add some color and style to your Harley-Davidson? Have professional and great looking powdercoating done to your Harley-Davidon parts. With a variety of colors, you will be sure to find something that adds that special style to your ride! These powders are polyester or epoxy resins that are extremely resistant to chemical attack, chips, and dings. Also, the coatings are much more durable than regular paint and they will maintain their good looks and easy cleaning for many years.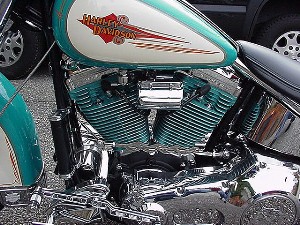 (Click For A Larger View)
Back To Top
Chroming Service
---
Black Hills offers show chrome plating at competitive rates. We can also add acid copper plating to the process at additional cost to help fill in imperfections in cast aluminum parts. To some degree, your results will depend on the quality of what you give us to plate. You will get the best possible results, but we can't bring back the dead.

Back To Top



Black Hills Power Packages
---
Back To Top
---